PhotoLabQc
Quality control management for photo labs
Photographic lab quality control software. For your print and film processing quality. NEW VERSION AVAILABLE
New version here:PhotoLabQcInstaller.exe
This requires a license to use.
Previous version here: PhotoLabQCSetup.msi
This software was designed for Windows XP, but will still run under Windows 10.
---
photoLabQC PC software
Monitoring of photo lab quality ensures optimum results and best equipment performance. This software manages your control strip data.
Connect your densitometer or key the densities.
Files the control strip data and charts it.
Eliminates the drudgery and errors of manual charting.
photoLabQC manages all control strip brands and all process types.
Purchase
Find out about obtaining or updating your software license for the single lab or multi lab software. Request more info here
photoLabQC online
Photo lab Quality control web software. Manages your control strip data online. View sample quality control charts online. Shows test data from a lab with multiple processors and multiple control strip types. This site uses dynamic content and shows a sample of features for multi-lab companies wishing to share data on the internet.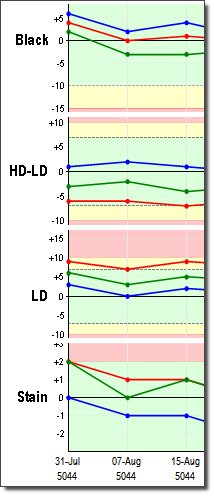 ---